About Us
To our readers



Beauty is something incredibly hard to quantify, and even harder because it carries a different meaning for each and every one of us.
We cling to the idea that beauty has to be something that soothes us, something that is capable of wowing us because of its incredible aesthetic qualities, and something that is pleasing to the eye and not disrupting our feeling of comfort.
Tokyo is certainly a city with many faces, but it is also a city which keeps making me feel inspired, resentful, electrified, humbled, exhausted, flabbergasted and grateful all at the same time.
You can walk down the glitzy main street of Omotesando, with its architectural gems and high-end design shops, to turn around the corner one moment, only to find yourself in a peaceful side street, surrounded by the aura of downtown Tokyo, yet seemingly miles away from its urban buzz.
Enter any given shopping mall in the city, take the elevator to the top floor and you will discover some of the world's finest and most pristine rooftop gardens, which don't just boast incredible city views for free, but also help us Tokyoites remember why we love this metropolis so much.
Step a few floors down and you might find yourself surrounded by an art and design book paradise, or turn around the corner once again and get lost in the gritty and smokey world of Yokocho, Tokyo's backstreet alleys. Lined with small yakitori shops and izakayas, every step along the Yokocho reveals a new flood of laughter, which seems to burst out of each shop from a different group of workers, unwinding far away from the stiff corporate world they just stepped out of.
Then there are konbini - run by a small, and often foreign workforce of incredibly humble and hardworking individuals, hustling 24/7 shifts to make sure we get that late-night cold beer and mochi ice cream while always greeting us with a respectful bow.
Maybe the beauty of Tokyo is not just the soft pink of its sakura pedals in spring, the bold patterns of the city's trailblazing architecture or the comforting sound of our station's 80s jingle - maybe the beauty of Tokyo lies in its potential to amaze, inspire and awe us with its grittiness, its odd shapes, its different approach, which sweeps us off of our stable path, and push us in a new direction.
I created WHEN IN TOKYO to share my own favorite hotspots and hidden gems in a short, tailor-made design and architecture guide and give you a chance to discover this sublime city, in the hopes that it will inspire you just as it continues to inspire me.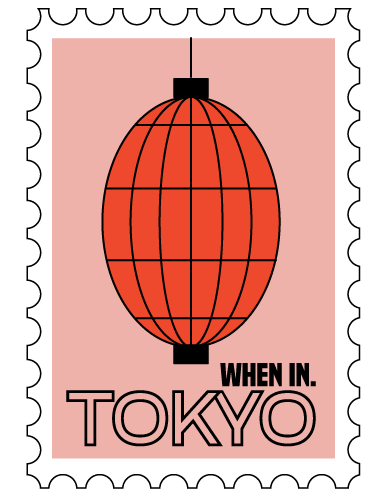 Sybilla Patrizia, founder of
WHEN IN TOKYO
When in Tokyo, do as the Tokyoites do.