Hama-rikyu Garden and
Tea House | Shiodome

浜離宮恩賜庭園 中島の御茶屋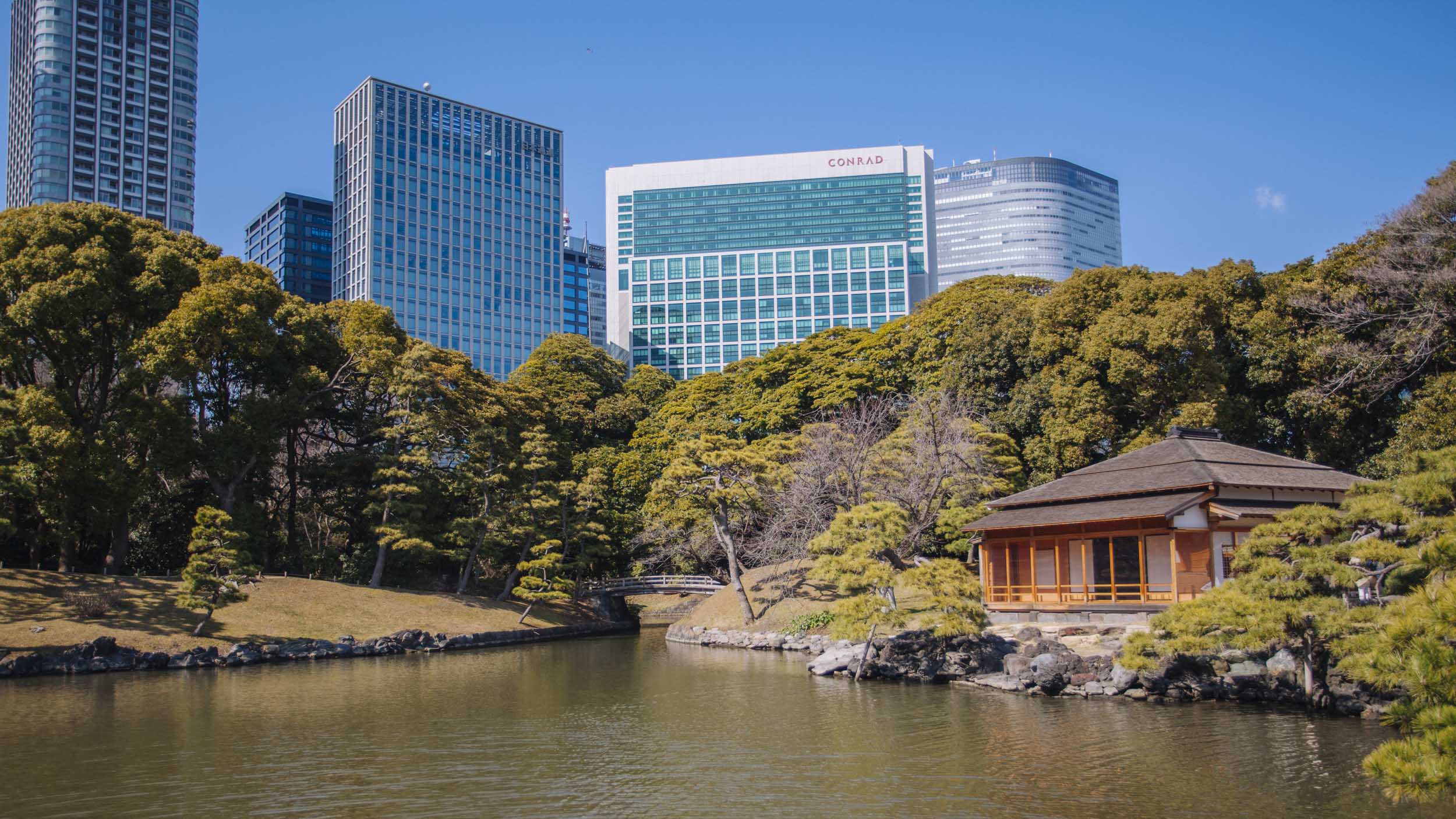 Located adjacent to Tokyo Bay and surrounded by the glitzy business towers of Shiodome and Tsukiji, Hama-rikyu Garden is an oasis lost in time amidst the fast-paced modern world of Tokyo. Once the property of the Tokugawa family and then the Imperial family, Hama-rikyu was almost completely destroyed in the Great Kanto Earthquake and in the bombings of World War II. After the Imperial Family restored and relinquished the garden to the city of Tokyo, Hama-rikyu was turned opened to the public in 1946 and is now considered one of the most beautiful Edo-style gardens in Tokyo.
Popular in spring for its grandiose cherry blossoms and rapeseed flowers, Hama-rikyu is worth a visit all year round. In October the garden becomes host to the Tokyo Grand Tea Ceremony (October 20-21, 2018) which is an amazing opportunity to witness a slice of Japanese tradition guided by a tea ceremony master.
Insider's Tip:
Be sure to end your tour of this historic garden with a visit to the tranquil tea house (Nakajima no ochaya) which is situated on a small island surrounded by the garden's pont.
Green Tea + Yam Steamed Bun:¥510
Green Tea + Nerikiri Traditonal Sweet:¥720
Free Guided Tours:
English: Mondays 10:30am and Saturdays 11am

Japanese: Saturdays, Sundays and public holidays (Twice a day from 11am and 2pm)
Website
︎link

Address
︎1-1, Hama Rikyu-teien, Chuo-ku, Tokyo 104-0046
︎ 03-3541-0200
︎ Google Maps

Hours
Garden:
9:00 to 17:00 (Entry until 16:30)

Tea House:
9:00 to 16:45

Closed: Year-end holidays (December 29 to January 1)

Price Category
$
$$$

Garden entrance fee: ¥300 (65 and over: ¥150, primary school children or younger: free)
Green Tea + Yam Steamed Bun:¥510
Green Tea + Nerikiri Traditonal Sweet:¥720