Take a Purikura and Meet your Teenage Alter Ego
プリクラ
A Quick Step-by-Step Guide

Introduction

Schoolgirl culture in Japan is as much unthinkable without its signature uniforms as it is without the famously shrilly, face-whitening, eye-enlargening purikura photo booths. An altered version of the word "print club," purikura can be found in pretty much any major area of Tokyo with a younger crowd (see our 'locations' list for more details) and should really be on anyone's list trying to experience a slice of cute Japan.
Are you ready to meet your teenage alter ego? Then off you go exploring the world of purikura...
*Many purikura parlors only allow men to enter when they are accompanied by women.
*Purikura machines usually operate in a mix of Japanese and English words but you can probably figure out how to use them by observing other users or just giving it a go.


Step 1 - Choose a machine

When you first enter any purikura parlor, you will most certainly be overwhelmed by the sheer choice of machines, lights and sounds emitted from everywhere and school girls giggling on about their freshly printed photos. Each purikura machine creates photos in a different style such as cute, sexy or elegant, with different background colors and seemingly unlimited sticker themes available. Walk around and familiarize yourself with the available options and then your purikura adventure begins!
Optional Step - rent a costume

Some purikura parlors offer costumes for a small rental fee or even for free if you want to step up your purikura game.
Step 2 - Pay at the display and choose your layout

On the front side of every purikura machine you will find a display, where you first pay the fee (usually around 400 yen), then you choose the amount of people playing and have some layout options such as background color or print design. After you paid and selected your options it's time to enter the machine!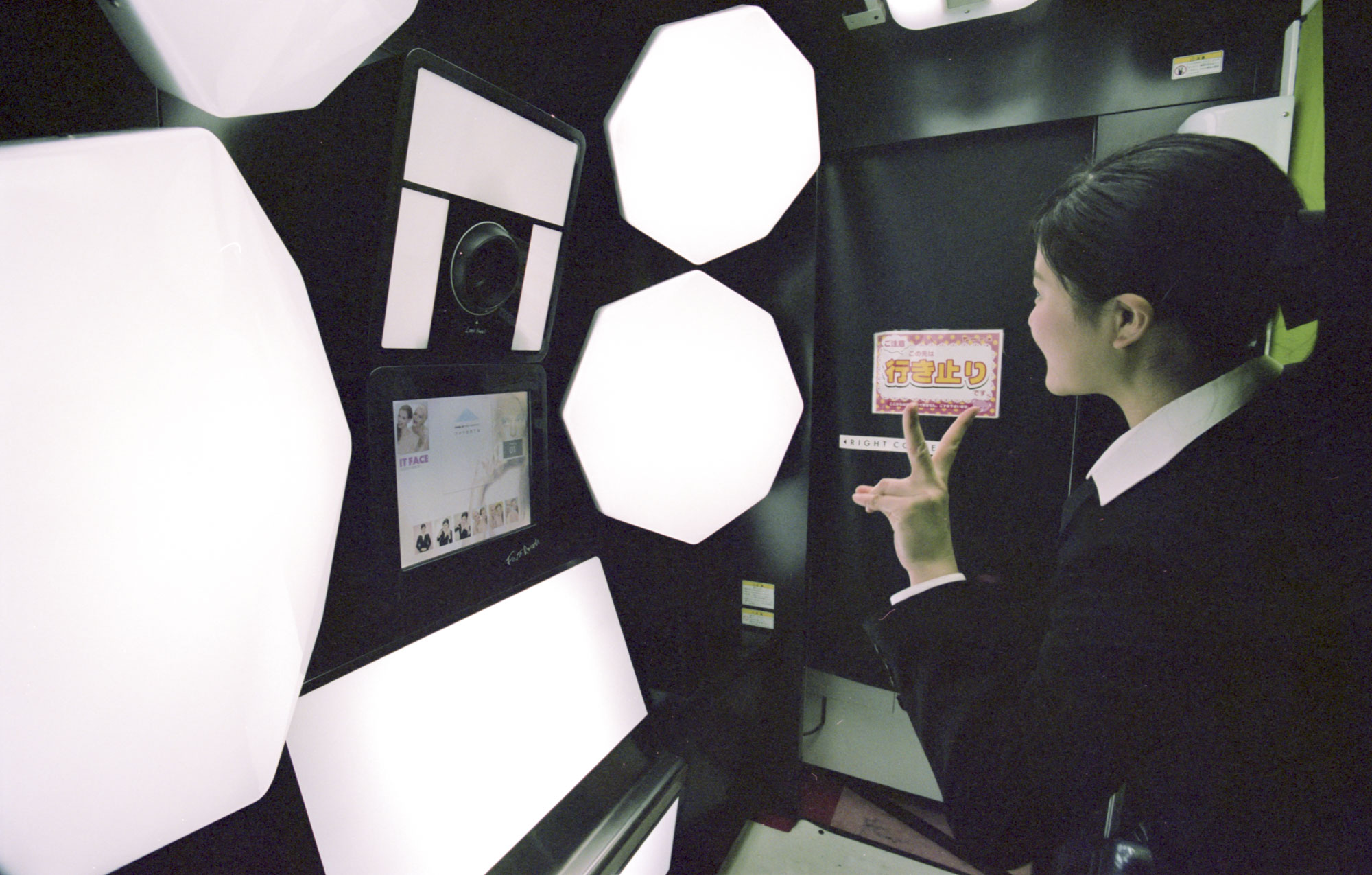 Step 3 - Start the shoot

Once inside the machine, get your outfits and poses ready, and then start shooting. The display inside will either prompt you to push a button when you are ready to shoot or start shooting after a certain amount of time has passed. Beware that the shoot happens quite quickly, and you only have about 5 seconds in between every photo to change your pose.
Step 4 - Editing and Sticker-Mania

Once done shooting make your way outside of the machine and find the usually slightly hidden editing booth on the outside corner of the machine. Here you will be able to add writing, stickers, face makeup and cute message to each of your photos. The screen is divided so that two people can edit at the same time - but beware because there might be a time limit on how long you can edit for. At the top of the screen you can choose which of your photos to edit, and towards the buttom you will have options such as write messages with a pen, add stickers, make up, mouse ears and so on.
Step 5 - Printing

After finishing your edits find the button called "END" and the machine will automatically print your photos outside. Sometimes you may have more layout options on the printing screen but this depends on the machine. Further, you will be given the option to enter an email address to which one of the photos will be sent to. However, this usually only works if you have a Japanese cell phone e-mail address, but sometimes gmail is also available. But be quick: the machine may only give you 20 seconds or so to type in your e-mail address.
Step 6 - Time to pick up your prints and find scissors

If there's more than one of you taking photos, you can usually find scissors attached to the machine or somewhere close by at a counter and cut the photos so that everyone can take home their very own purikura!
︎
Locations
Shibuya
︎Calla Lily, 13-8 Udagawacho, Shibuya-ku, Tokyo
︎Google Maps
Harajuku
︎Eggnam Purikura, 1-19-9 Jingumae, Shibuya-ku, Tokyo
︎Google Maps
︎Purikura Land NOA, 1-17-5 Jingumae, Shibuya-ku, Tokyo
︎Google Maps
Akihabara
︎SEGA Akihabara Bldg 3, 1-11-11 Sotokanda, Chiyoda-ku, Tokyo
︎Google Maps
Ikebukuro
︎SEGA Ikebukuro Gigo, 1-21-1 Higashi-Ikebukuro, Toshima-ku, Tokyo
︎Google Maps
Price Category
¥¥

¥¥
Usually
¥
300-500 per photo session