Shinjuku Gyoen National Garden | Shinjuku
新宿御苑
Perhaps one of the most famous and biggest Japanese gardens Tokyo has to offer, Shinjuku Gyoen is a top spot to escape the hustle and bustle of central Tokyo. This former daimyo estate boast more than 20,000 trees and is also one of the premier places to catch the annual cherry-blossom viewing as this park features a variety of 1,500 cherry trees which bloom at different times starting from late March all the way into late April.

But don't be disappointed if you can't make it to Tokyo in spring - there are plenty of seasonal flowers and plants to see all year around and even a greenhouse with tropical plants. Make sure to bring a blanket and some food as this is also one of the best spots in Tokyo for a hanami picknick with friends and family.

Note: No alcohol or pets allowed.

︎
︎11 Naito-machi, Shinjuku-ku, Tokyo 160-0014︎Google Maps
︎ 09:00-16:00/18:30 (closing time varies depending on season)
$

$$$



Garden entrance fee:
Adults: ¥500
Seniors, students:¥250
Children 15 and under: free of charge
Closest Stations:
Shinjuku-gyoen mae (Marunouchi Line)Shinjuku-sanchome (Fukutoshin Line, Marunouchi Line, Shinjuku Line)
Kanda River
神田川
If the photo-hungry crowds of Meguro River are too much for you, then check out the equally beautiful Kanda River near Waseda, a hidden and barely known gem, where you can enjoy walking along the sakura-lined canal with only few people blocking your way. Arrive on the cute Toden Arakawa Line (Sakura Tram) which is one of Tokyo's last street cars and get off at Gakushuinshita Station, from where you can make your way towards Hotel Chinzanso and Edogawabashi Station.
Along the way you will find several small bridges which make for great photo spots, a
small museum with a tatami tea room
where you can stop for a bowl of matcha,
Higo Hosokawa Garden
, or the venerable
Hotel Chinzanso
with its own
outstanding garden,
both of which can be visited for free (see more below).
︎
︎Walk along the Kanda River between Gakushuinshita Station and Hotel Chinzanso
︎Google Maps
︎ always open
free

Closest Stations:
Gakushuinshita and Omokagebashi (Toden Arakawa Line/ Sakura Tram)
Edogawabashi (Yurakucho Line)

Yanaka Cemetery | Yanaka
谷中霊園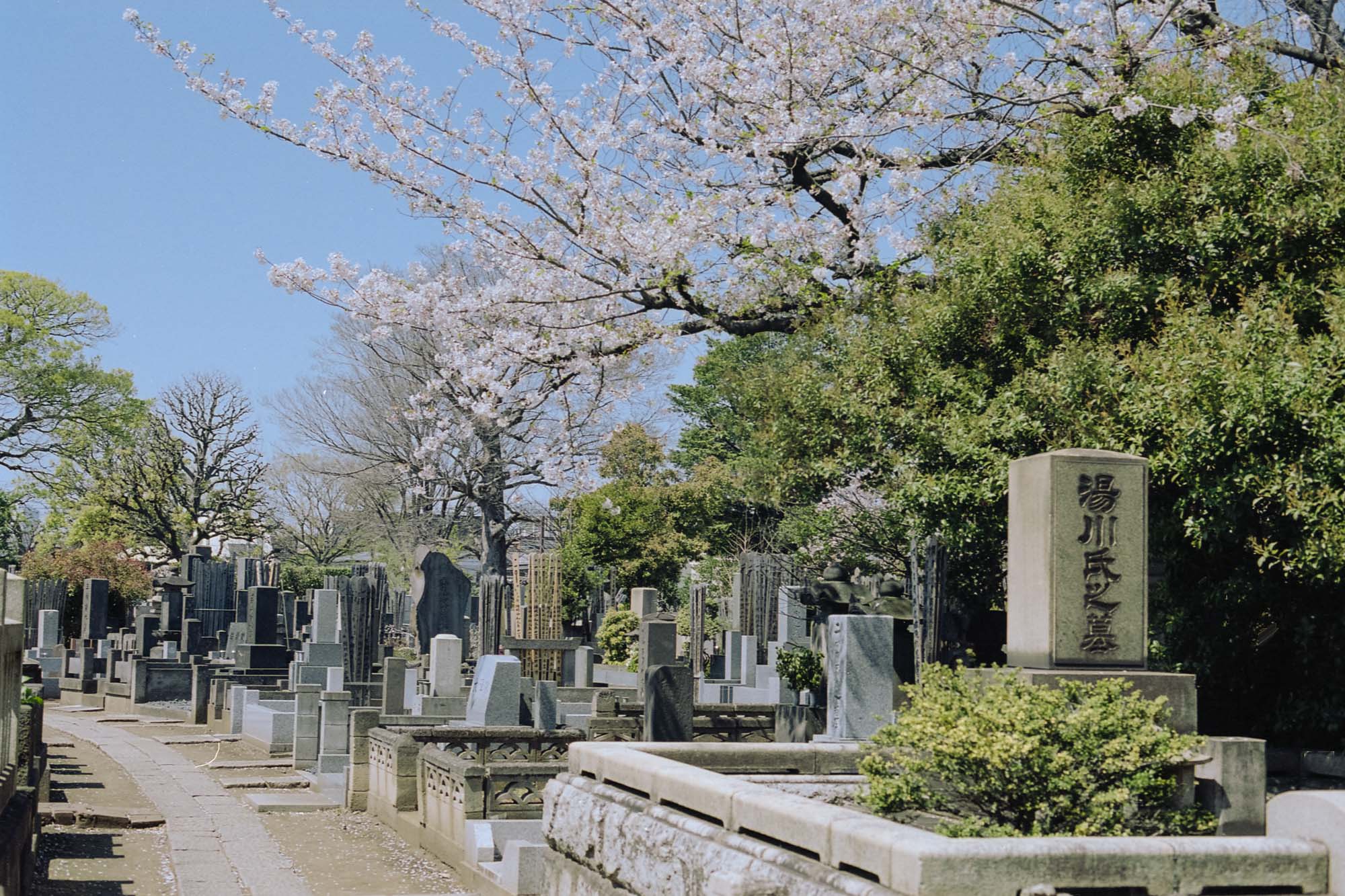 In springtime, Yanaka Cemetery turns into one of Tokyo's most beautiful, yet underrated cherry blossom spots, when its main road, fittingly called "Sakura Dori," transforms into an explosion of pale-pink blossoms.
As you stroll along, you'll find the graves of famous Japanese historic figures such as members of the Tokugawa family, artists, authors, politicians and actors of the Meiji Era, sprinkled along the small paths of the cemetery. Be sure to stop at the serene
Tennoji Temple
which boasts perhaps the most beautiful of all cherry trees in this area; a stunning pink willow tree which is the perfect place for a moment of peacefulness (and of course a great photo-op).
︎
Meguro River | Nakameguro
目黒川
Arguably the most famous of all spots in Tokyo, Meguro river rewards visitors with stunning day and nighttime hanami views that have made this area famous well beyond the borders of Japan. With a seemingly never-ending row of cherry blossom trees (there are supposedly 800 of them along the river!) and perhaps Tokyo's best nighttime hanami, you will not be disappointed with the sheer amount of trees on display. During hanami season, many of the shops and cafés along the river set up stands selling pink-hued drinks and food, perfect for your stroll along the river.

Beware however, that this area attracts thousands of visitors which crowd both sides of the river late into the night, which can at times make this spot feel more like a fight for the best insta photo-op than a celebration of the blossoms.

︎
Aoyama Cemetery | Aoyama
青山霊園
Although it might not be your first intuition to spend cherry blossom season together with the dead, Aoyama Cemetery is one of Tokyo's most beautiful spots for hanami in the city.

With a history dating back to 1874, it is not just home to the graves of many well-known Tokyoites, but a walk along the cemetery's central avenue will reveal an almost uninterrupted 800 m of majestic cherry blossom trees. Due to its elevated location, the cemetery also has beautiful views of surrounding central Tokyo, and if you visit in the late afternoon, you might even be treated to a beautiful sunset, dousing the cherry trees in a stunning golden glow.

︎
︎Aoyama Cemetry, 2-32-2 Minamiaoyama, Minato-ku, Tokyo
︎Google Maps
︎ always open
free

Closest Stations:
Nogizaka (Chiyoda Line)
Gaiemmae (Ginza Line)
Omotesando (Ginza, Hanzomon and Chiyoda Lines)
Otonashi Water Park | Oji
音無親水公園
Even seasoned Tokyoites might have never heard of this hidden hanami hotspot, which perhaps make Otonashi Water Park in northern Tokyo's Oji district an even more attractive little oasis than other places on this list.

Marvel at the beautiful cherry blossom trees from the cute wooden bridge crossing the river, or dip your feet into the canal which flows through this traditional Japanese stone park. If you are lucky, you might even be able to grab one of the few tables along the river which are ideal for a hanami picknick.

Before you head out, be sure to stroll through nearby Asukayama park on a small mountain near the river, which also boasts its own share of cherry bloosm glory, and definetly take a ride on the cute Toden Arakawa Line - one of Tokyo's last remaining street cars which will transport you into a different place in time.

︎
︎Just around the corner from Oji station along the the small canal

︎Google Maps
︎ always open
free

Closest Stations:
Oji (Namboku Line, Keihin Tohoku Line, Toden Arakawa Line)
Tokyo Midtown | Roppongi
東京ミッドタウン ガーデン
When hanami season starts and the cherry trees show their full beauty, thousands of visitors swarm into Tokyo Midtown's garden in an attempt to catch a glimpse of Japan's most beloved flower. Every year, there are special events lined up at Tokyo Midtown's garden area, including a cherry blossom themed pop-up bar serving pink champagne, strawberries and more to garden visitors.

Our secret tip for the best view: Queue up or reserve a table on the terrace of one of the restaurants inside Tokyo Midtown to enjoy a lunch or dinner with the most incredible views of the sakura.

︎
︎Tokyo Midtown Green & Park
︎Google Maps
︎ 05:00-23:00
free



Closest Stations:
Roppongi (Hibiya and Oedo Line)
Nogizaka (Chiyoda Line)
Hotel Chinzanso Garden | Waseda
椿山荘
Although part of the famous Chinzanso Hotel, this garden can be visited freely all year around and should be on the list of any Japanese garden lover. Stroll along the Kanda river until you reach the beautiful Kabuki-mon gate in the South of the garden which will lead you slightly up the hill past various ponds, a three-story pagoda, a small bridge and a waterfall. Especially beautiful at night when the trees are illuminated, you might also stumble upon the occasional kimono-wearer as this is a popular spot for weddings and traditional celebrations.

After your stroll through the garden make a stop at Mucha-an, a small but beautiful traditional soba restaurant which serves noodles and delicious tempura for as little as 1.050 yen (we recommend to reserve in advance).

︎
︎2-10-8 Sekiguchi, Bunkyō, Tokyo

︎Google Maps

︎ 09:00-21:00
free

Closest Station:
Edogawabashi Station (Yurakucho Line)
Waseda Station (Toden Arakawa Line, not Tokyo Metro)
Rikugien Gardens | Komagome
六義園
Rikugi-en, located in Tokyo's northern Komagome district, is a pristine traditional Japanese garden dating back to the Edo Period. In 1953 it was designated by the Japanese government as a site of exceptional beauty and an important cultural asset making it one of Tokyo's must-go-to gardens, especially during spring and autumn season.

The tea house located inside Rikugi-en is well worth a visit as it features a direct view of the garden's main pond which is especially beautiful during Japan's cherry blossom season. The main highlight however, is the nighttime light-up event when you can enjoy stunning views of the garden's giant cherry trees and a beautiful nighttime view of the pond while enjoying a cup of matcha tea (nighttime illumination requires separate ticket).

︎
︎6-16-3 Hon-komagome, Bunkyo-ku, Tokyo
︎Google Maps
︎ 9:00 to 17:00 (Last entrance 16:30)
Closed: Year-end holidays (December 29 to January)
Extended opening hours until 21:00 during spring evening light-ups
$$$$

Cherry Blossom Nighttime Illuminations:
Late March - Early April | Illumnation starts after sunset

Closest Station:


Komagome (JR Yamanote Line, Tokyo Metro Namboku Line)

Photo Credits: Marufish and Zengame via flicker under CC,






More topics