Back to Tokyo's Highlights
Tokyo's best (free) Rooftop Gardens
Think Tokyo is nothing but a mass of concrete, steel and glass? Think again. These rooftop gardens will make you fall in love with the city all over again.

From glamorous Ginza to pulsating Ikebukuro, here are our favorite and free oases around the city.
︎
Tokyu Plaza Omohara Forest | Omotesando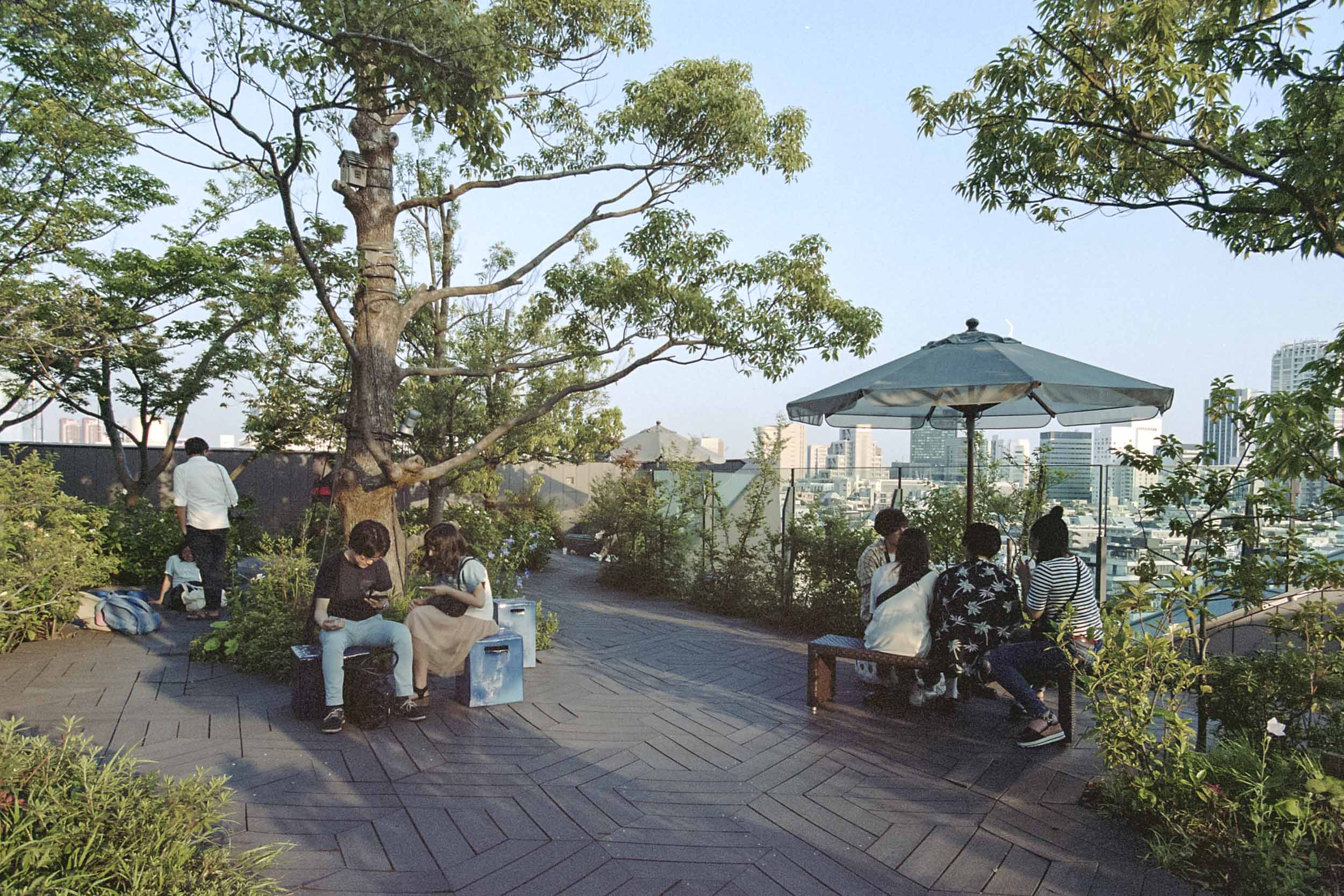 Right in the hustle and bustle between Harajuku and Omotesando is this oasis of quiet and green. Take the (slightly hidden) elevator next to American eagle on the outside of Tokyu Plaza up to the 6th floor and enter straight into Omohara Forest, certainly one of the most exciting rooftop gardens in Tokyo. Not only can you get a wonderful view over Omotesando and Harajuku, but there is also plenty of space to just sit and relax (including free wifi!) without having to buy any food or drinks. We recommend also to visit this place in the evening, or to bring your own drinks and food and have a little picknick away from the stress of the big city.

Before you leave Tokyu Plaza make sure to check out the main entrance of this shopping center on the ground floor which is a famous photo spot and has famously been featured in Will.I.Am's music video "#thatpower".

︎
GINZA SIX Garden | Ginza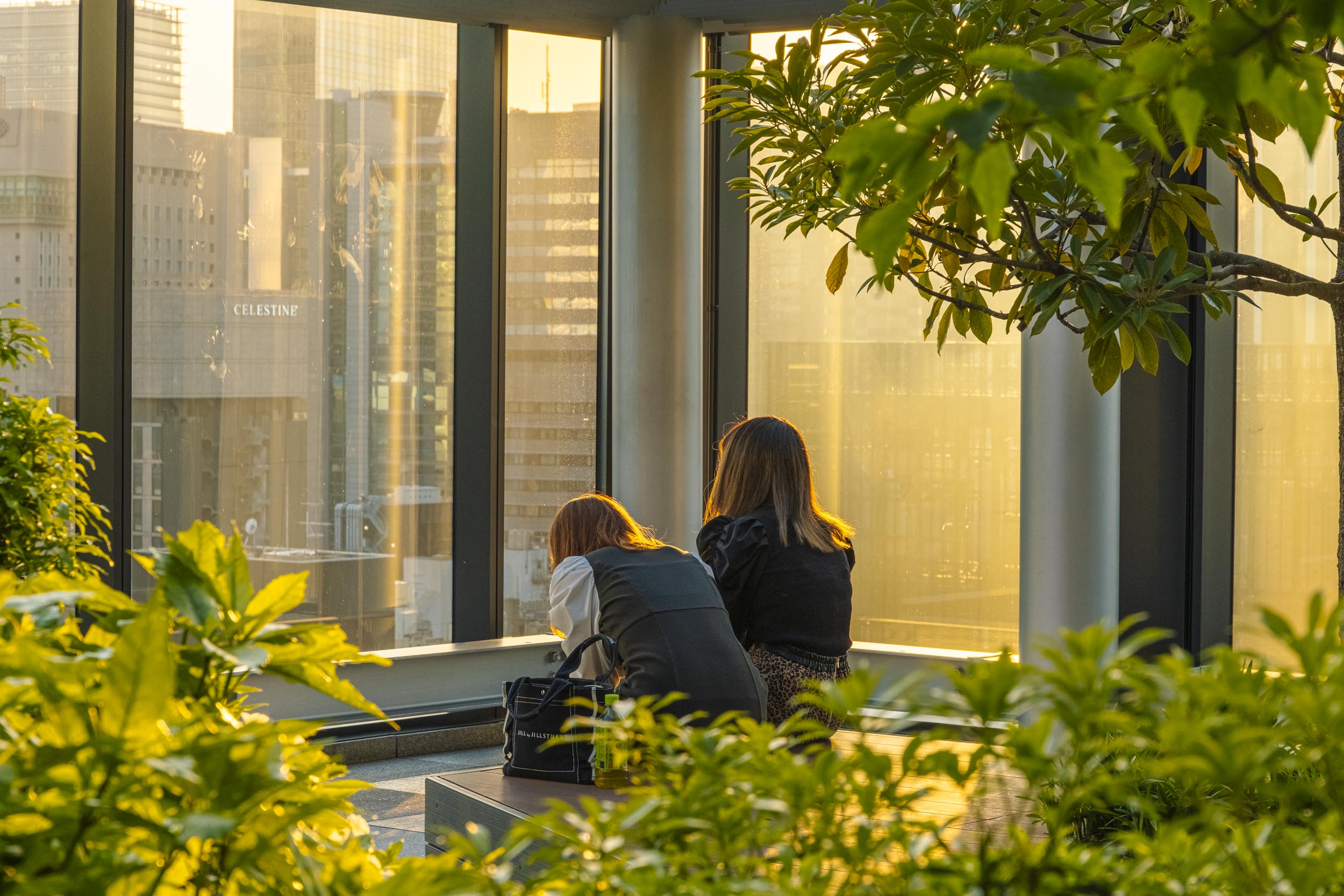 Perhaps our favourite rooftop garden in Tokyo and then newest addition to the city's rooftop frenzy, GINZA SIX Garden is not only enormous but also offers a 360 degree view over Ginza and central Tokyo. The seating areas between the trees and bushes make for a perfect picknick spot all year around but especially at night when the city is illuminated, revealing its full beauty. Don't forget to stop by the beautiful Tsutaya bookstore on the 6th floor which has a wonderful selection of art books, magazines, creative souvenirs and travel books. The Starbucks (and magnificent bonsai) adjacent to the bookstore is also well worth a visit!

︎
(marunouchi) HOUSE Garden | Marunouchi

Marunouchi House is another example of Tokyo's exciting rooftop garden architecture. Located on the 7th floor of the Shin-Marunouchi building, this is a true oasis for those seeking a break from the busy streets of Marunouchi. With one of the best views of the historic Tokyo Station building, this is also a great place to get some stunning evening views of one Japan's busiest train stations, rush-hour madness included. Beware however, that you are not allowed to bring food from outside the building, but that shouldn't be too big of a problem given the wonderful choice of restaurants on the same floor. Ask for your food on a tray and head out on the terrace where you can wrap up your day big-city style.

︎
︎
11:00 - 23:00
︎7th floor, Shin-Marunouchi Building, 1-5-1 Marunouchi, Chiyoda, Tokyo
︎Google Maps
︎Website
*The terrace may close due to rain, strong wind, or other reasons.
*The Tokyo Station Building is lit up everyday from sunset to 9:00 p.m.
Miyashita Park | Shibuya
As any new building complex in Tokyo, Miyashita Park's massive re-development features its own rooftop park that has few rivals in size and variety of facilities. Having its own skatepark, beach volleyball court and bouldering wall right in the heart of Shibuya means that this park is usually crowded with Tokyo's outdoor aficionados and occasional festivals, open-air cinema and concerts during the warm season make this one of Tokyo's most diverse rooftop parks.
Be sure to stick around until the evening for a stunning view of downtown Shibuya's night lights, and visit nearby
Valley Park Stand
café for refreshments and one of Shibuya's best remote work locations.
︎
︎
8:00-23:00 (sports facilities close at 22:00)
︎Rooftop, Miyashita Park, 1-26-5 Shibuya, Shibuya-ku, Tokyo
︎Google Maps
︎W
ebsite
*visit park office for info on renting sports facilities.
*closed during New Years holiday
Left and right: Photos by Nacása & Partners Inc., Shin Shasin Kobo
Center: Via Seibu, Shibuya Kuritsu Miyashita Park
Kiriko Terrace Tokyu Plaza | Ginza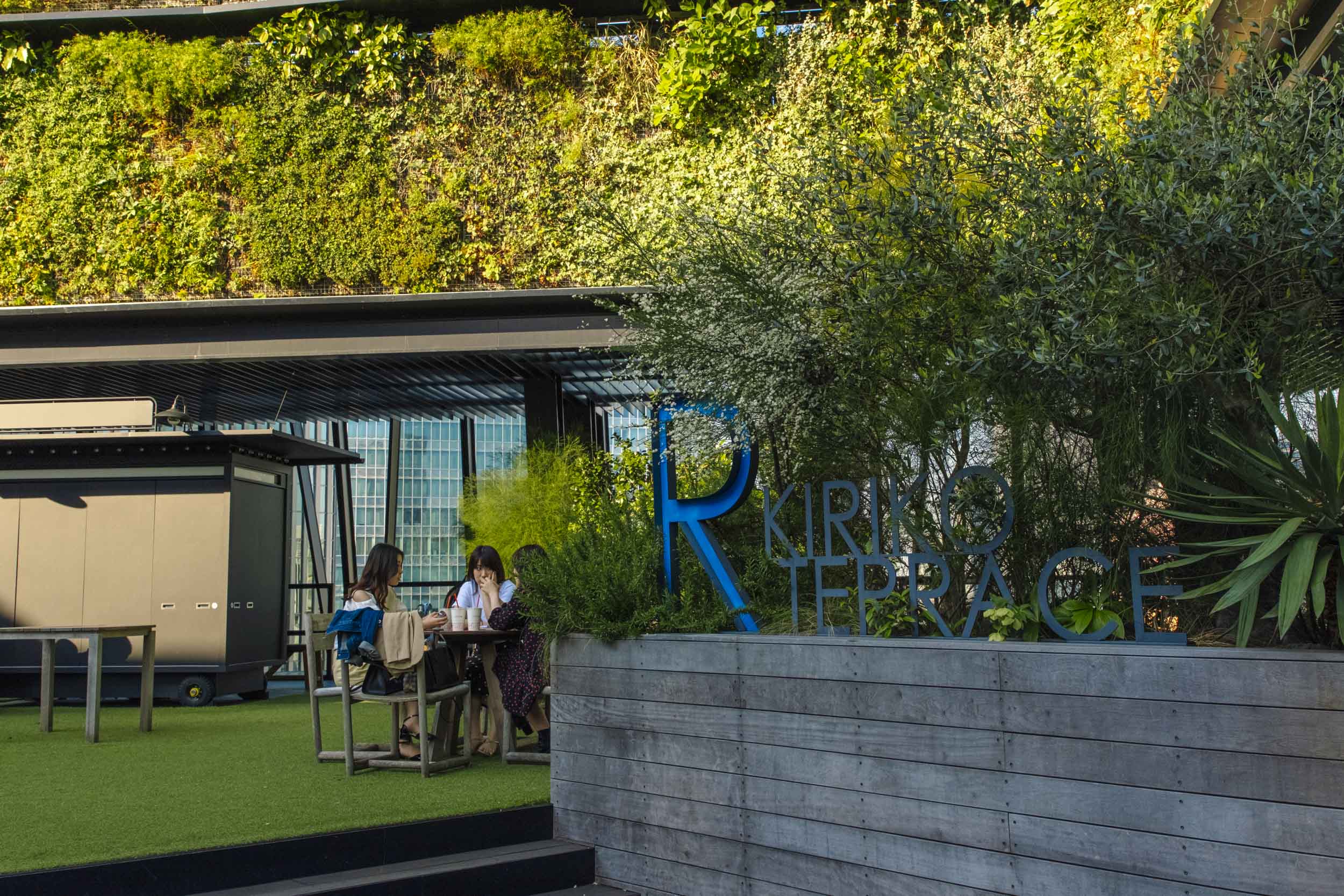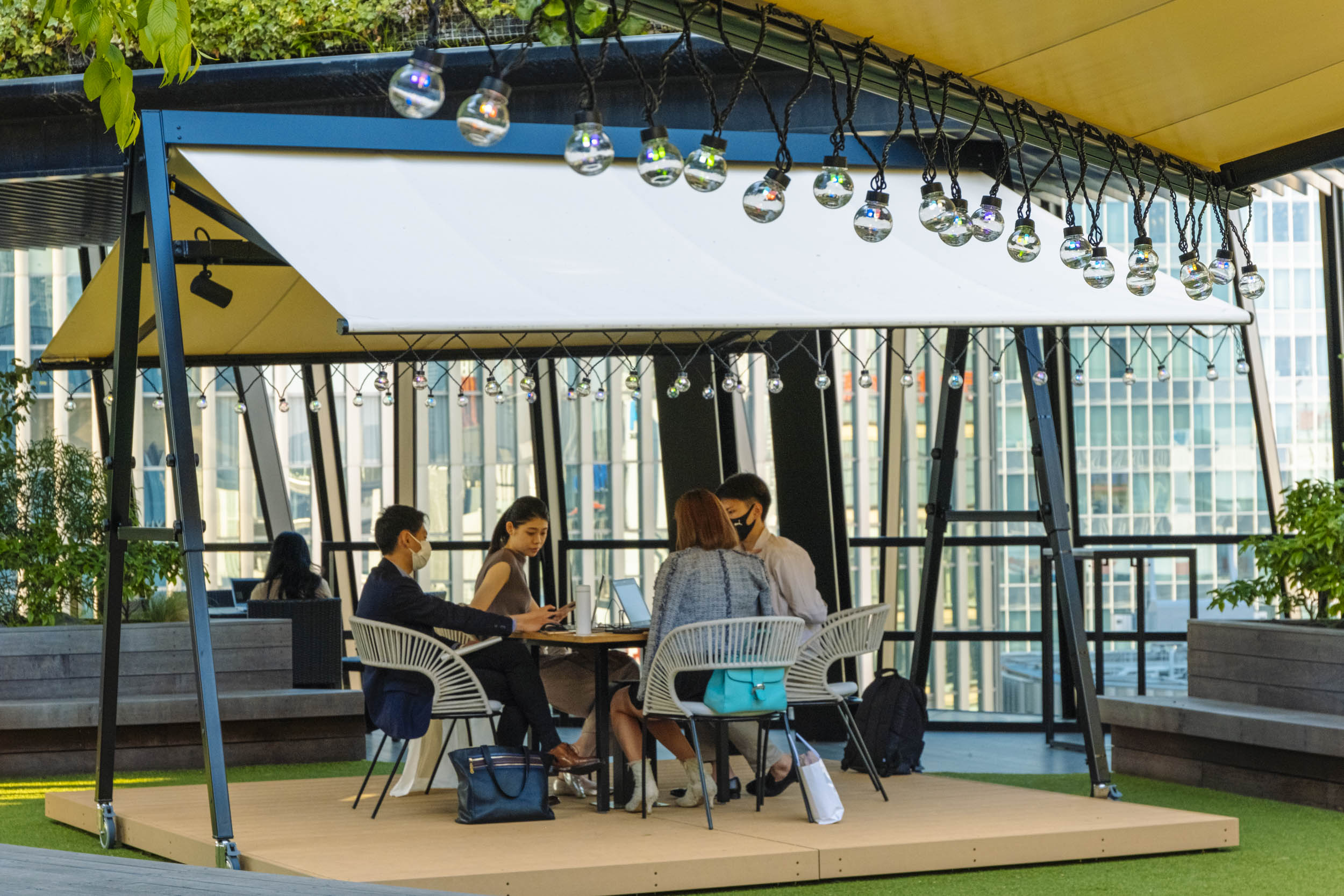 This stunning rooftop terrace, which is managed by the same company as
this

beautiful rootop garden in Omotesando
, offers a magnificent view over the Yurakucho area and even as far as the imperial palace grounds. Bring your own drink or check out the little food stand which sells some snacks and beverages and get a break from your Ginza shopping tour. Don't forget to also check out the beautiful Kiriko Lounge on the 6th floor and the sophisticated Sukiyabashi-Sabo Café, or relax on one of the couches in the adjacent area which is free to use for anyone and still offers the same stunning view.
︎
︎ 11:00-20:00
︎5-2-1 Ginza, Chuo-ku, Tokyo
︎Google Maps
︎W
ebsite
Right photo courtesy of Tokyu Plaza Ginza
KITTE Garden | Marunouchi





More a terrace than a garden, the rooftop of KITTE has arguably one of the best views over the historic Tokyo station building and newly renovated station square. Watch as the famous Shinkansen bullet trains slowly roll into the station and busy salarymen and -women flooding the square during rush our.

Note: You are not allowed to bring food onto KITTE Garden.
︎
︎
11:00-23:00
︎5th floor, KITTE, 2-7-2, Marunouchi, Chiyoda-ku, Tokyo
︎Google Maps
︎W
ebsite
*sometimes closes due to weather
NEWoMan Garden | Shinjuku
Still somewhat a secret among locals, this public garden and terrace just outside and above JR Shinjuku's New South Exit is an ideal spot for an afternoon snack or even a great place for a simple and cheap night out with friends.

After exploring the space in front of the JR New South Exit, take the elevator up to the 6F and discover a quiet, but expansive rooftop garden that spans over the 6th and 7th floor as well as the South and East Terrace of the NEWoMan shopping mall. The breathtaking views over Shinjuku station and the skyline of downtown Shinjuku make for a perferct stop from a shopping spree, or an impromptu picnic spot over the roofs of Tokyo.

After discovering the upper deks, make your way down the stairs on the outside of the building and you will find that this rooftop garden continues downwards across several levels until you reach the 4th floor of NEWoMan and exit.

︎
︎
NEWoman Garden: 11:00-18:00
︎ Garden in front of JR New South Exit: open 24/7
︎
NEWoMan Shinjuku, 6F, 7F, South Terrace, East Terrace (JR Shinjuku New South East Exit)
︎Google Maps
With Harajuku Park | Harajuku
Opened as part of Harajuku Station's big revamp in 2020, With Harajuku's very own rooftop garden is a small, hidden oasis within the otherwise ultra busy Harajuku neighborhood. Major retailers such as IKEA and Uniqlo being located just below the rooftop park, means the bottom floors are always well frequented, however, the small outdoor deck on the second and third floor is still one of the lesser known rooftop gardens on our list and provides a welcoming resting spot during a busy shopping trip to the fashionable neighborhood.

︎
Park View Garden | Midtown Hibiya





Erected as a twin to the venerable Tokyo Midtown in Roppongi, Midtown Hibiya is central Tokyo's newest addition to the city's current construction boom. While we think the interior of Midtown Hibiya is only a mere shadow of it's Roppongi sibling, the Park View Rooftop Garden is one of Tokyo's finest, with a view of not only Hibiya park, but also the entire Imperial Palace, offering a one-of-a-kind panorama over a more green side Tokyo.

︎
Toshima Forest | Ikebukuro





Another hidden secret of Tokyo's rooftop garden landscape is Toshima Forest, located on the 10th floor of Toshima City Hall in Ikebukuro and designed by famous architect Kengo Kuma. This beautiful and quiet oasis is the perfect place for a break when visiting the city hall, and also great for a little picknick with a free view over downtown Tokyo.
︎
︎
April-September: 09:00- 17:00; October-March: 09:00-16:00
︎10th floor, Toshima Ward Office, 2-45-1 Minami-Ikebukuro, Toshima-ku, Tokyo

︎Google Maps

︎Website
Ginza Komatsu Rooftop Garden | Ginza






Also called the "shrine in the sky" Miwa Jinja is a small shrine that sits on the rooftop of Dover Street Market in Ginza. Despite its central location in the heart of the popular shopping district, this rooftop garden is still undiscovered by the crowds of Tokyo making this a true hidden gem that you can enjoy without anyone around.

The shrine and its approach were built using stones and soil brought in all the way from Kyoto, as well as Kiso cypress wood from Mount Ontake, the same wood that is also used at Mie prefecture's famous Ise Shrine.
︎
︎

11:00- 20:00 *might be closed in case of bad weather

︎Rooftop, Ginza Komatsu West Building, 6-9-5 Ginza, Chuo-ku, Tokyo
︎Google Maps
︎Website





More topics