HAY | Omotesando
Housed in the basement of GYRE, on of Tokyo's most understated temples of high-end design, HAY brings its scandinavian design philosophy to the heart of Omotesando with timeless furniture, tableware and other home accessories which will make you refurnish your Tokyo apartment all over again. When you are there, be sure to check out CIBONE next door, another haven for interior design lovers.
︎
︎11:00-20:00
︎B1 GYRE, 5-10-1 Jingumae, Shibuya, Tokyo
︎Google Maps
︎Website

Images by Masataka Nishi via HAY
Amahare | Shirokanedai
Situated in the quiet neighborhood of Shirokanedai, Amahare might not directly lie in the heart of Tokyo's tourist hubs, but perhaps that's exactly why this shop feels like one of Tokyo's best design tableware finds. With its sleek shop that screams minimal Japanese design, and its exquisite wares ranging from plates and cups, to teapots, vases and bowls, Amahare more than deserves its place as one of the city's best tableware design shops.
︎
︎11:00-19:00, closed on Wednesdays
︎5-5-2 Shirokanedai, Minato-ku, Tokyo
︎Google Maps
︎Website

Images by Satoshi Asakawa, Yuka Yanazume
Momota Touen at Palace Hotel Tokyo | Marunouchi
Known as the home of Japanese porcelain, Arita Town on Kyushu Island is the birthplace of many of Japan's most famous ceramic brands, one of which is 1616 / arita japan. Designer Teruhiro Yanagihara brought to life this sophisticated line of simple, yet beautiful tableware pieces in collaboration with Arita-based Momota-Touen Corporation, which can be admired at the brand's sleek Tokyo flagship store inside the Palace Hotel Tokyo.

︎
︎10:00-19:00
︎Underground Arcade of the Palace Hotel Tokyo, Marunouchi 1-1-1, Chiyoda-ku, Tokyo
︎Google Maps
︎Website

Photography by Takumi Ota and Elizabeth Heltoft Arnby

TIME & STYLE | Roppongi (Tokyo Midtown)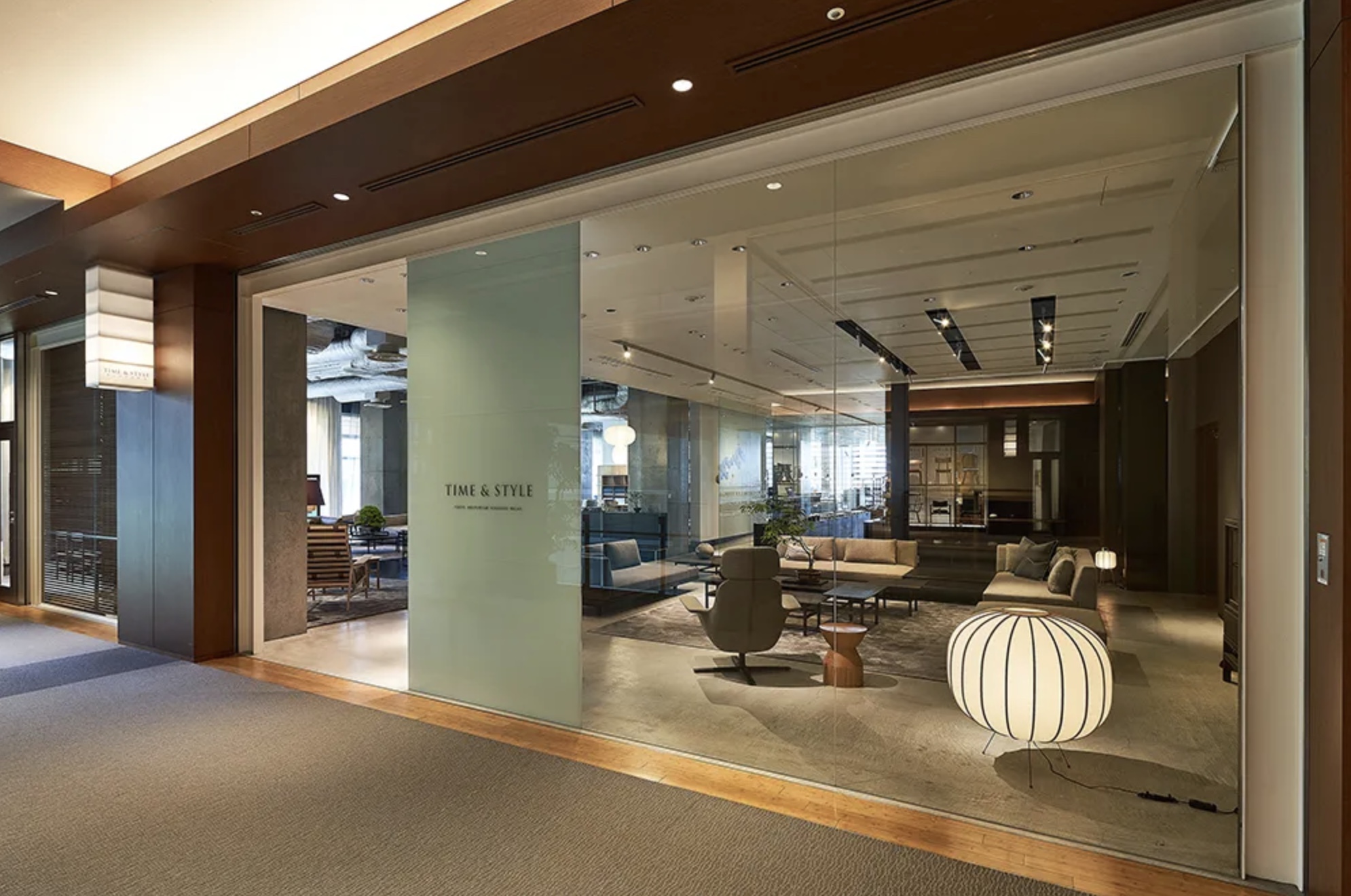 Housed on the 3rd floor of majestic Tokyo Midtown's shopping mall in Roppongi, TIME&STYLE is an interior design empire featuring its own line of furnture, lighting, tableware and more, all manufactured in Japan. A simple walk through the company's Midtown store will leave you wanting to completely redecorate your home, but if you budget can't stretch quite that far, why not gift yourself some outstanding tableware pieces?
︎11:00-21:00
︎Galleria/3F Tokyo Midtown, 9-7-4 Akasaka, Minato-ku, Tokyo
︎Google Maps
︎Website
Images via TIME&STYLE
CIBONE | Omotesando
On the same basement floor as HAY, CIBONE is the perfect complement to its next door European neighboor, offering its own exciting selection of Japanese and western interior design goods for the always design-hungry crowd of Tokyoites. Whether you're looking for bigger furniture pieces or smaller gifts and design accessories, this basement floor is your one-stop shop to all things interior design.
Found MUJI Aoyama + MUJI Ginza
While it seems like the whole world is obsessed with Japan's favorite household design empire MUJI, only few know that just down the road from the busy Omotesando intersection, you can find Found MUJI Aoyama, a line of MUJI started in 2003, which has at its mission to "search and find" not just beautifully crafted, but also long-lasting artisinal products from all around the world. What makes the Found MUJI brand so special, is that every few months, a completely new set of products is on display, with Mashiko pottery, baskets from all around the world, or Portugese tableware having recently been featured in the shop.

For the full selection of MUJI's vast lineup, head to the global flagship store in Ginza, where 7 floors of interior goods, stationary, cosmetics, books, a food floor, two restaurants and even a hotel will make even the most die-hard MUJI fan's heart beat faster.
Found MUJI Aoyama
︎Mon-Sat: 11:00-21:00, Sun: 11:00-20:00
︎
5-50-6 Jingumae, Shibuya-ku, Tokyo
︎Google Maps
︎Website
MUJI Ginza
︎11:00-21:00
︎3-3-5 Ginza, Chuo-ku, Tokyo
︎Google Maps
︎Website
Left: Found MUJI TEA (August-October 2018)
Center and Right: MUJI Ginza


Images courtesy of MUJI
Spiral Market | Aoyama
Make your way up the enormous spiral staircase that gives its name to Aoyama's famed Spiral Building, and you will reach the well-stocked Spiral Market design shop. With its wide range of products, spanning from tableware, to stationary, linen and small interior design products, carefully selected for their beautiful design, Spiral Market is one of Tokyo's best places to pick up a thoughtful gift, or your next interior design find.
︎
Loft | Shibuya
While LOFT is known to many as an empire of stationary and cosmetic products, many don't realize that when you make your way up to the store's 3rd floor- "&home" cooking and dining area, a paradise of Japanese tableware, cooking utensils and more is waiting for you.
Paper-thin Japan-made glasses, bamboo bento boxes, ultra-sharp knives, furoshiki for gift-wrapping, Japanese snacks or design plates are just some of the things you will find in this design goods paradise.
︎
KIYA | Roppongi and Shibuya
Established in 1792, Nihonbashi Kiya is one of Japan's premier cutlery producers and offers some of the sharpest and most high-end knives in Japan. Their two newest branches, which are located inside Tokyu Plaza Shibuya and Tokyo Midtown Roppongi, is a not just a celebration of the company's excellent craftsmanship, but also a wonderful reflection of the sleek, yet functional design of Kiya's product range, which includes wooden cutting boards, traditional pots for rice cooking, scissors, razors and of course - knives. Oh, and have we mentioned the beautiful shop design?

︎
︎Website
Roppongi Store:
︎Galleria/3F Tokyo Midtown, 9-7-4 Akasaka, Minato-ku, Tokyo
︎Google Maps
︎11:00-21:00
Shibuya Store:
︎
TokyuPlaza Shibuya 3F,
Dogenzaka 1-2-3, Shibuya-ku,Tokyo
︎Google Maps
︎10:00-21:00
Roppongi Store:
Shop design by Mandai Architects
Photography by Yasuhiro Takagi
Nakagawa Masashichi | Shibuya
With roots dating back to 1716 Nara, Nakagawa Masashichi has been in the retail game for — let's say — quite some time to have perfectioned their selection of Japanese artisan goods. Ranging from beautifully packaged snacks (a perfect souvenir), to hand-crafted design tableware, textiles and clothes, this store truly embodies the intersection of old Japan and modern design. The Shibuya store inside the recently opened Scramble Square building boasts the largest selection of goods, but Nakagawa Masashichi also has stores in other major shopping districts of Tokyo.
︎
︎10:00-21:00
︎11F Scramble Square, 2-24-12 Shibuya, Shibuya-ku, Tokyo
︎Google Maps
︎Website
Photos via Nakagawa Masashichi and Bauhaus Maruei
KIHARA | Shibuya
Less than a 15-min walk to the northwest of Tokyo's busy Shibuya neighborhood, and housed in a light-drenched second and third floor loft, KIHARA is one of our latest design tableware discoveries in the city. Fusing the traditions of Japan's famed porcelain town of Arita (where KIHARA has its headquarter) with sleek modern design and new production techniques, its no surprise that KIHARA has won over our design-loving hearts.
︎11:00-19:00, closed on Mondays
︎2F/3F, 1-14-11 Tomigaya, Shibuya-ku, Tokyo
︎Google Maps
︎Website

Images courtesy of KIHARA
AKOMEYA TOKYO in la kagū | Kagurazaka
It isn't everyday that something as simple as rice would lead you to great design, but lifestyle powerhouse AKOMEYA TOKYO is doing just that and more. While the brand boasts various shops around Japan, head to the AKOMEYA TOKYO in la kagū store in Kagurazaka, which is housed in a lofty warehouse-style building, and boasts everything from a wonderful rice shop (of course), to beautifully packaged delicacies from all over Japan, design tableware, household products and even bonsai. After your shopping spree, head to the first floor and indulge in traditional Japanese desserts, healthy set meals or a matcha latte at AKOMEYA TOKYO's very own café and restaurant.
yumiko iihoshi porcelain | Omotesando
There are only a few stores in Tokyo that do design tableware as neatly and beautifully as yumiko iihoshi, and once you enter the Japanese brand's sleek showroom in Omotesando, we are sure you will agree with us. Yumiko iihoshi's range of straightforward and effortless tableware - ranging from plates and bowls to glasses and teapots - are produced by craftspeople from potteries across Japan, using manual processes and unique glazes to bring to life the brand's signature no-frills line of design tableware.

*Note: Due to the current outbreak of COVID-19, opening hours are as follows (subject to change):
12:00-17:00, closed on Tuesdays, Saturdays and Sundays.
︎
︎12:00-19:00, closed on Tuesdays
︎COSMO Bldg. 1F, 5-45-3 Jingumae, Shibuya-ku, Tokyo
︎Google Maps
︎Website

Product images courtesy of yumiko iihoshi porcelain
Kappabashi Kitchen Town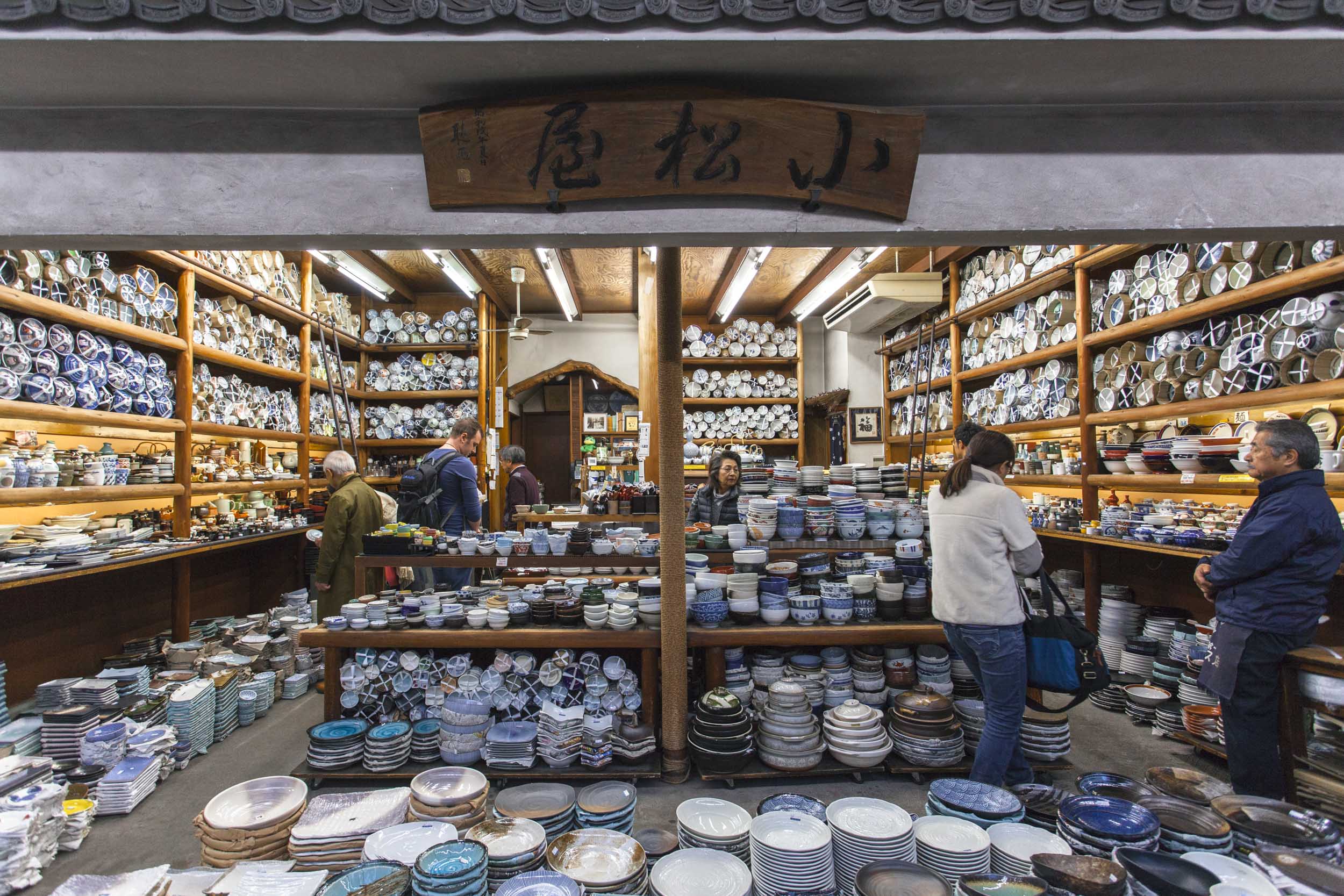 Located just in between Ueno and Asakusa stations,
Kappabashi
often gets overlooked due to its famous neighbors, but is nevertheless a gem that shouldn't be passed up by any lover of kitchenware. Spanning over almost one kilometer and boasting a whooping 170 shops selling anything from plastic food samples, to tableware, bakery equipment, lacquerware, packaging, bamboo wares, lanterns, uniforms and any other restaurant equipment imaginable, Kappabashi is not just Japan's but one of the world's largest areas dedicated to kitchen implements.
Click here
to find our complete guide to Kappabashi Kitchen Town.
︎
︎Best days to visit: Monday-Saturday (many stores closes on Sunday)

︎Around Tawaramachi Station (Ginza Line)

︎Google Maps





More topics