Back to Tokyo's Highlights
Tokyo's Best Shopping Malls for Design Lovers
From the world-famous Depachika (vast underground food halls), to breathtaking rooftop gardens, elegant fashion and design dining, Tokyo's shopping mall and department store game is hard to beat — and with so many choices out there, it's easy to get lost.

For the best shopping malls and department store this megalopolis has to offer, follow our guide and immerse yourself in the über-commercial world that Tokyo is just so good at...
︎
Ginza Six | Ginza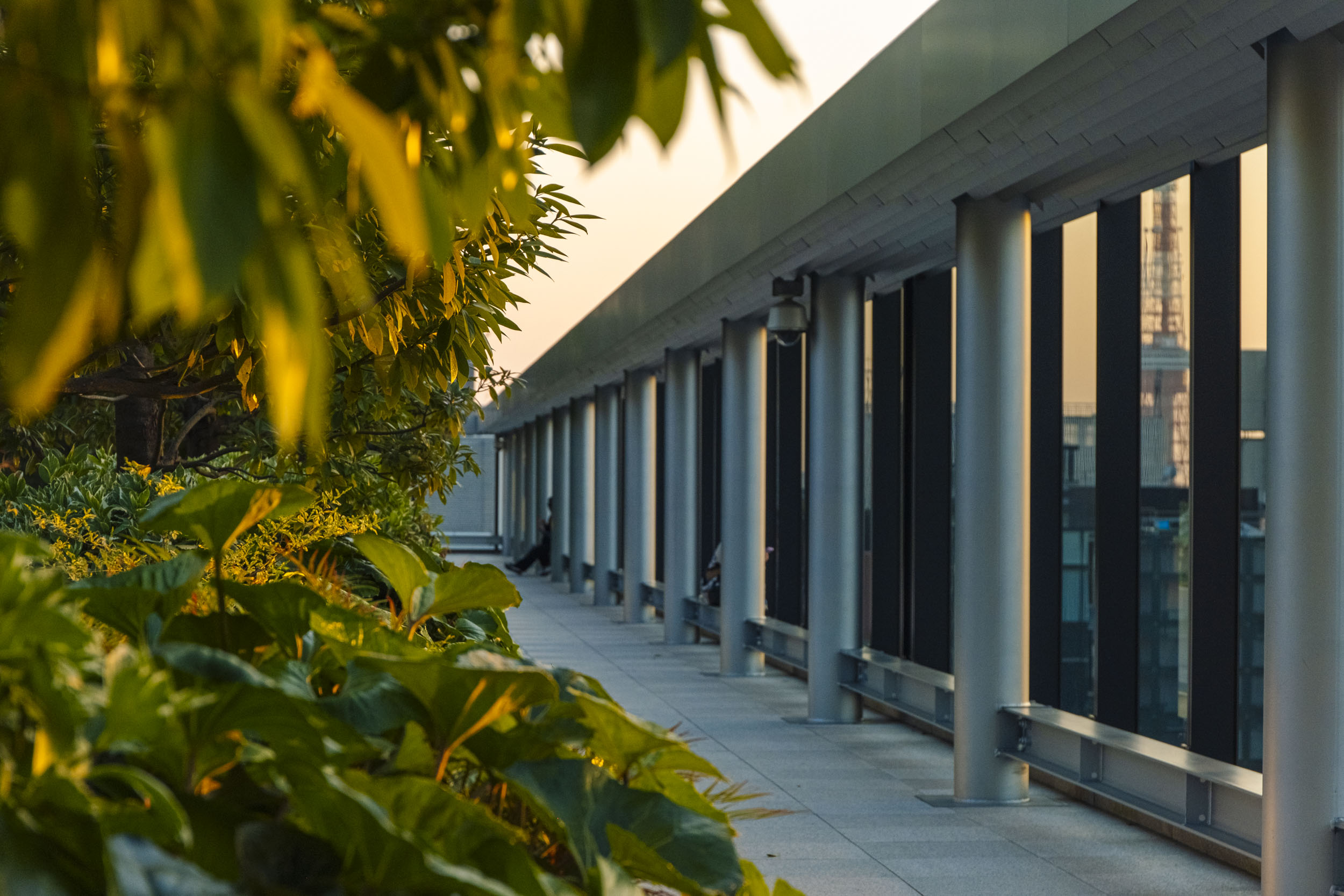 It happens only rarely that a shopping complex can inspire your mind beyond superficial shopping goals, but a visit to Ginza Six will do just that. Besides its stunningly elegant shops, this gigantic shopping complex which takes up a whole block on Ginza's main street, boasts one of Tokyo's best (and free) rooftop gardens, an outstanding art and design bookstore, an art gallery, a chic food hall on the basement level, and a Noh Theatre for traditional Japanese entertainment.

Make sure not to miss:
Rooftop Garden, RF
Tsutaya Art and Design Bookstore, 6F
Starbucks Tsutaya, 6F
Food Hall, B2F
Noh Theatre, B3F

︎
︎ 10:30-20:30
︎6-10-1 Ginza, Chuo-ku, Tokyo
︎Google Maps
︎Website
Left: Ginza Six Interior in 2018

Center: Tsutaya Bookstor, 6F
Right: Rooftop Garden
Tokyo Midtown | Roppongi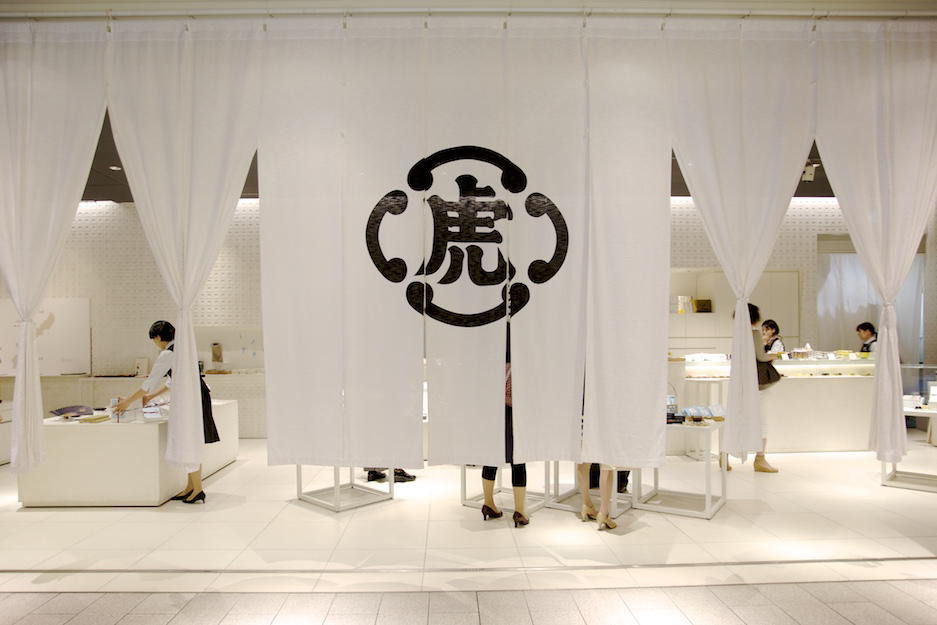 Tokyo Midtown is another stunning example of what a shopping complex can look like if it's put together with the right concept in mind. Fusing modern office space, a hotel, elegant shops, an art museum and a park (with yet another art museum), Tokyo Midtown will offer you more than just one way to spend your hard-earned money. Be sure to check out the terrace-side dining options with stellar park views, and refresh your mind at the excellently curated exhibitions at Suntory Museum of Art and 21_21 Design Sight.
Make sure not to miss:
Time and Style, Furniture, 3F
Nihonbashi Kiya, Knives, 3F
Suntory Museum of Art, 3F
Toraya, Japanese Sweets, B1F
21_21 Design Sight, Museum, Inside Park
︎
︎ 11:00-21:00
︎9-7-1 Akasaka, Minato-ku, Tokyo
︎Google Maps
︎Website
Left: Tokyo Midtown
Center: Toraya, B1F
Right: Suntory Museum of Art, image courtesy of Suntory Museum of Art

PARCO | Shibuya
After a multiple-year-long renovation period, PARCO re-opened its doors in 2019 and returns as Shibuya's legendary fashion temple, spreading over 11 floors boasting 100 shops, restaurants, cafés, event spaces, a museum and a rooftop garden. While luxury brands make their grand entrance on the ground floor, head upstairs to explore local Japanese brands, pop-up exhibitions, Tokyo's biggest Pokémon Center (look out for the giant submerged Mewtwo) and a tranquil rooftop garden which spirals its way downwards back to the ground floor. Before you head out, be sure to stop at the colorful basement floor which hosts a range of restaurants and cafés offering a welcome treat after an intense shopping tour.

Make sure not to miss:
B1F Food Hall
Parco Museum, 4F and Gallery X, B1F
Pokémon Center and Nintendo Store, 6F
Rooftop Park, 10F
︎
GYRE | Omotesando
Housed in an elegant complex designed by dutch architecture firm MVRDV, GYRE is still one of the city's design gems that is spared by masses of visitors, making it a pleasure to stroll through GYRE's serene floors of high-end fashion, interior design and dining. The B1F interior floor hosts some of Tokyo's best spots to pick up furniture and design objects while on the beautiful 4F dining floor you can enjoy your next coffee or lunch surrounded by Omotesando's best indoor jungle.

Make sure not to miss:
GYRE.FOOD floor, 4F
Interior floor, B1F
︎
︎ 11:00-20:00
︎5-10-1 Jingumae, Shibuya-ku, Tokyo
︎Google Maps
︎Website
Left: GYRE Exterior (photo by Robert Hart)
Center: eatrip soil, 4F (photo via GYRE)
Right: B1F HAY (photo via GYRE)
Miyashita Park | Shibuya
Yet another addition to Tokyo's ever-changing urban landscape, Miyashita Park opened in 2020 as part of the ongoing redevelopment project around Shibuya Station. This giant complex that spans over four floors, comprises a massive rooftop park, complete with skatepark, three floors of fashion, cafés and dining, as well as Shibuya Yokocho on the ground floor, which houses a range of Japanese izakayas.

While the rooftop garden with its open streches of lawn is certainly a welcome addition to busy Shibuya (be sure to visit at night for the view), a selection of fashionable boutiques selling anything from contemporary streetwear to high-end brands has become a hotspot for Tokyo's fashion-conscious crowd.

The sad story is, that this area used to be home to one of Tokyo's largest homeless communitites who, instead of being properly sheltered, were simply pushed out — a very typical story for a megalopolis like Tokyo, were commercial entities, not human empathy, shape the development of our city.

Make sure not to miss:
RF: Rooftop park
RF: Valley Park Stand (Café inside sequence)
3F: EQUALAND (fashion)
2F: HIGHTIDE (stationary, accessories)
1F: KITH (fashion)
1F: DADAÏ (modern Vietnamese cuisine)
1F: Shibuya Yokocho
︎
︎ Shops: 11:00-21:00, Restaurants: 11:00-22:00, Rooftop Park: 08:00-23:00
︎6-20-10 Jingumae, Shibuya-ku, Tokyo
︎Google Maps
︎Website

Left: 3F Shopping Area:
Center: Miyashita Park (Rooftop)
Right: Valley Park Stand

Images via Miyashita Park
NEWoMan | Shinjuku
Joining the ranks as one of Tokyo's most exciting shopping complexes, NEWoMan Shinjuku might not be Tokyo's biggest, but certainly one of the city's finest destinations to shop for fashion like a Tokyoite. Be sure to check out the rooftop gardens with views of Shinjuku station on the 6th and 7th floors on your way out, and head to stylish Rosemary's on the 6th floor for one of Shinjuku's best after-work dining experiences.

Make sure not to miss:
Rooftop Garden, 6F, 7F , South Terrace, East Terrace
Rosemary's, Restaurant, 6F
︎
︎ 11:00-21:30
︎4-1-6 Shinjuku, Shinjuku-ku, Tokyo
︎Google Maps
︎Website
Left: NEWoMan Exterior
Center: Aesop inside NEWoMan (via Aesop)

Right: 6F Rooftop Garden
Nihonbashi Takashimaya S.C. Annex | Nihonbashi
Takashimaya's long history reached new heights in 2018 when its Tokyo flagship store in Nihonbashi was reborn into the Takashimaya S.C. shopping complex - boasting three buildings covering over 20 shopping and dining floors in total. Especially worth mentioning is the new Annex (新館) with its beautifully designed fashion and lifestyle floors which clearly outshine the outdated main building.

Make sure not to miss:
Annex building, Lifestyle floors 4F+5F
Tea Salon Michikusaya, 4F
︎
︎Annex: 10:30-20:00
︎Takashimaya New Building, 2-5 Nihonbashi, Chuo-ku, Tokyo
︎Google Maps
︎Website
Left: Nihonbashi Takashimaya S.C. Exterior

Center: Fashion Floor

Right: Interior Floor
Omotesando Hills | Omotesando
Built in 2005 by none other than legendary Japanese architect Tadao Ando, Omotesando Hills is not just a must-see for fans of concrete-architecture, but also provides a welcome escape from busy Omotesando Avenue. The shopping complex's design takes advantage of the natural hillside shape of Omotesando and features triangular, inclined walkways which gracefully connect the six shopping and restaurant floors from the basement all the way to the roof.

Make sure not to miss:
Restaurant Floor, 3F
Urban Research (Fashion), B3F
︎
︎ 11:00-21:00

︎4-12-10 Jingumae, Shibuya-ku, Tokyo

︎Google Maps

︎Website

Left | Right: Omotesando Hills Interior Center: Omotesando Hills Exterior





More topics